Superfood Milkshakes for Kids

Packed with Nutritional Value for Growing Bodies
Just Mix with Water

Kid Friendly Flavours - Chocolate, Vanilla and Strawberry
Sachets or Pouches

Enjoy Tasty Nutritional Shakes Any Time - On the Go or at Home
Superfood Milkshakes for Kids
Packed with Nutritional Value for Growing Bodies
Just Mix with Water
Kid Friendly Flavours - Chocolate, Vanilla and Strawberry
Sachets or Pouches
Enjoy Tasty Nutritional Shakes Any Time - On the Go or at Home
What is in "Anytime Kids" Superfood Shakes?
Our shakes are milk powder based with 2 forms of protein, 18 essential vitamins and minerals along with specialty ingredients depending on the range, such as, omega-3 fish oil, pro-biotic fibre and colostrum.
They are low lactose, gluten free, low in sugar, low in fat and low GI (glycemic index), making them a perfect option for your child's breakfast, morning or afternoon tea or pre or post sports meal.
The shakes don't result in sugar crash and won't jeopardise kids' ability to concentrate. They can be used as a complete nutritional drink during the day, night or as a bedtime snack. 
BUY SHAKES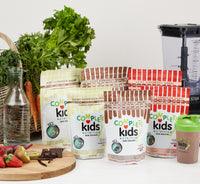 Our Story
Being parents ourselves, we know all too well that children can be fussy eaters. Sometimes it can be hard to ensure kids receive the right nutrients and calories their growing bodies need.
After experiencing the daily struggle of a really fussy eater, we researched and developed a superfood milkshake range which is kid-tested and approved.
The shakes come in small sachets or bigger pouches and can be easily made in a shaker or blender with just water. They come in 3 tasty kid-friendly flavours - chocolate, vanilla and strawberry.